In the rotating restaurant at the top of the Strat hotel and casino, guests can once again enjoy $20 cocktails or a $90 shellfish display for two while taking in the expansive views of downtown Las Vegas from its landmark tower. After the Covid shutdown, Vegas is back in business. But not everyone seems happy, or sure how long it will last.
On a recent afternoon, just out of view of the hotel's 1,000-plus feet (350-metre) spike, a couple of hundred hospitality service workers were gathered in a nearby car park. In baking 90F ( 32C) heat, speakers told the workers that they must fight to get improved contracts and controls for soaring rents. "Sí, se puede" – yes, we can – they shouted outside the headquarters of Nevada's powerful Culinary Workers Union.
While the housekeepers, chefs and other workers sang and chanted through the meeting, there was no disguising a deep sense of anger about their working conditions and the direction of the economy.
A cursory scan of Nevada's economic statistics would suggest that life has got better recently for its members. Unemployment hit 30% in Las Vegas in April 2020 when Covid closed the city down – the highest rate in the nation. Now it's 5%, higher than the national average but still a huge improvement.
Las Vegas has been on a roll recently. Few cities were hit as hard financially by the pandemic. Now the tables are open again, gambling revenues are at new highs, hotel occupancies are climbing, conventioneers are back in town. But the mood is strained. Worker after worker said they were still feeling the effects of cuts made by their employers during the pandemic and were now suffering as inflation drove up prices and wages failed to keep up.
"Everything is going up. Gas, food, rent, everything," said Gladis Blanco, a housekeeper at the Bellagio. "But not our wages. It's getting better for businesses but not for us: we are still struggling."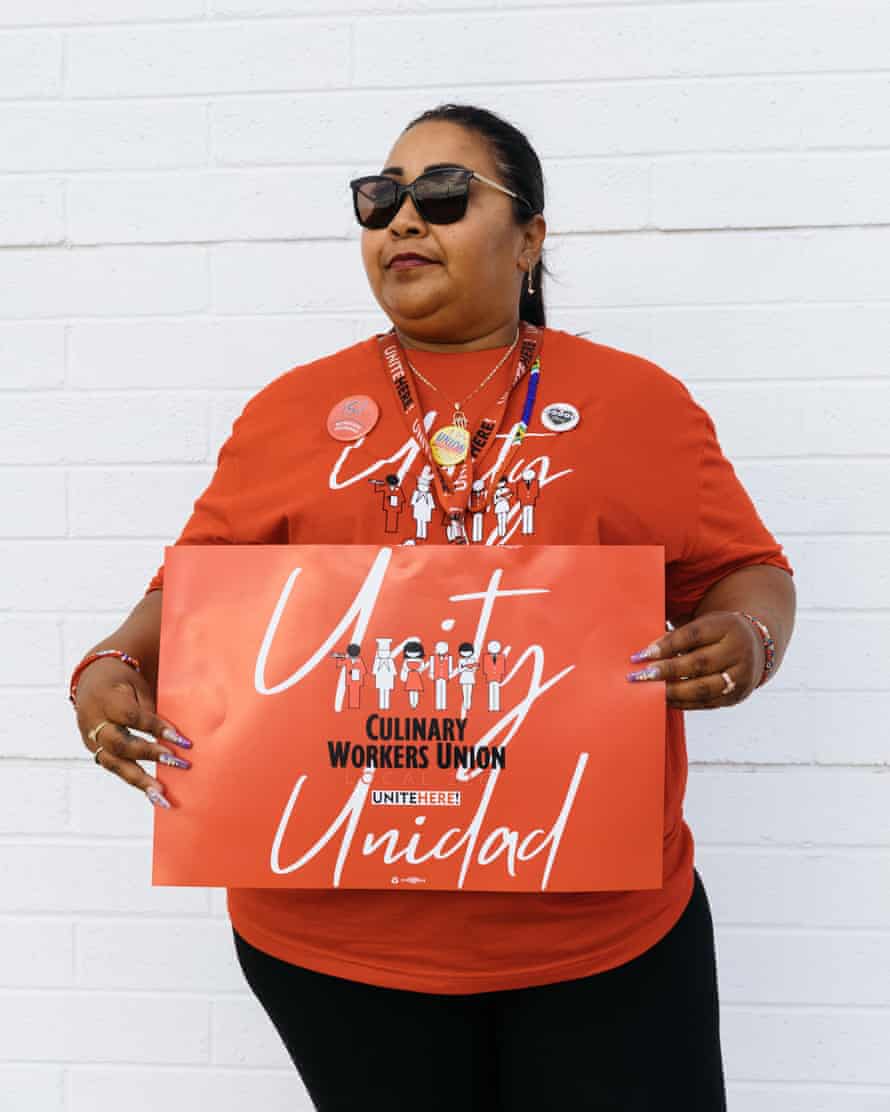 In many ways, Vegas holds a funhouse mirror to the deeply strange US economy. Nationally, the unemployment rate is 3.6%, close to a 50-year low. Consumers are spending and wages are rising. And yet supply chain problems persist, businesses complain they can't get staff, workers are angry about how they were treated during the pandemic and after, and tourists are unhappy with shortages and poor service.
Everyone is worried about inflation – rising faster than wages for many – and interest rates. Looming over all this is the threat of a recession – one likely to be felt first in a city reliant on freewheeling spending, which dries up as quickly as spilled water on the hot Las Vegas Strip in leaner times.
"It's becoming a more delicate situation every day," said Brian Gordon, principal of Las Vegas-based economic analyst Applied Analysis. "Las Vegas was ground zero for what the pandemic meant: casinos had never shut down before," he said. "Right at the time when the recovery is taking hold, global economic factors are taking a hold. Global inflation, supply chain…


Read More: 'We're still struggling': low unemployment can't hide impact of low wages and