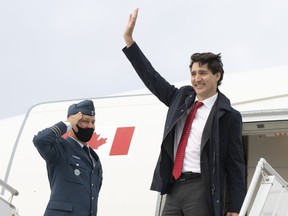 Article content
On Sunday, Scotiabank released a report saying the Trudeau government needed to cut spending to help deal with inflation.
Article content
On Monday, Finance Minister Chrystia Freeland said the government had done enough.
On Wednesday, Statistics Canada released the latest numbers showing the cost of living continues to rise and that Scotiabank was right.
The monthly inflation rate for May was 7.7% up from 6.8% in April. The last time inflation was this high was January 1983. Back then, Down Under by Men at Work was the top song on the charts, Dallas was the No. 1 TV show, and Tootsie was tops at the movie box office.
And Justin Trudeau was an 11-year-old living at 24 Sussex as his father ran the country, unsure how to deal with out-of-control inflation. I'm not old enough to remember the impact of inflation in those days but I do remember my mother shopping for every deal she could find at the grocery store.
Article content
Now seven years into another Trudeau as prime minister and we are back in that spot once again.
Gas and food run higher
While the overall inflation rate is 7.7%, food inflation is still higher. According to Statistics Canada, the overall cost of groceries is up 9.7% compared to one year ago, but the cost of specific items is even higher.
Cooking oils rose 30%, the highest on record. Fresh vegetables were up 10.3% in May after an 8.2% increase in April. Fresh and frozen fish saw price increases of 11.7%, and meat only increased by 9% compared to the 10.1% increase the month earlier.
Once again, gas is even higher with Canadians paying a national average of $2.03 per litre compared to $1.33 a year ago.
In the United States, President Joe Biden is calling for Congress to pass a gas tax holiday for at least three months. In Canada, the Trudeau government is boasting about raising the carbon tax even at a time of high inflation.
Article content
Trudeau doesn't understand
The crazy part is that Trudeau, who left for Rwanda on Tuesday for a meeting of Commonwealth leaders, isn't someone who would notice price increases. It isn't just that Trudeau is PM and insulated from the cost of daily life, this is something he has never known.
Trudeau was born when his father was prime minister and lived at 24 Sussex Drive until his teen years. He was given a trust fund in his 20s, built mostly from his grandfather's investments in oil and gas, and hasn't faced the same realities that…


Read More: LILLEY: Inflation hits highest level since '83, Trudeau won't act