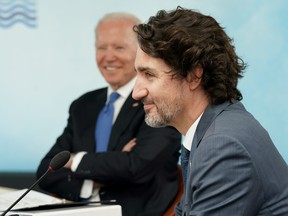 Article content
The Biden administration has dropped its push for an American made electric vehicle tax credit that would have killed our auto industry in favour of a North American made tax credit.
Call it a win for Team Canada but credit does have to go to the captain of the team as well, Justin Trudeau.
Now that you're done fainting at my praise of the Prime Minister, let's look at how we got here.
As I was telling Canadians during the last presidential election, if you thought Donald Trump was protectionist, wait until you see Joe Biden. Biden's original EV tax credit policy was a rebate of up to $12,500 for purchasing an electric vehicle but only if the car was assembled in the United States with 50% American parts, an American-made battery and it had to be made at a unionized facility.
Article content
It was that last requirement, for the plant to be unionized, that initially stopped the bill last fall. Democrat Senators in states such as Georgia and West Virginia had non-union manufacturing facilities that would be hurt by the measure.
Joe Manchin of West Virginia refused to back the bill. That gave Trudeau and the rest of Team Canada the time they needed to fix this.
Back in November, I was writing that Trudeau had dropped the ball on this file. His government had taken a breather after battling Trump's protectionism and were caught off guard by Biden's actions.
Things were so bad that when Trudeau arrived in Washington to talk about this with Biden last November, the President was in Detroit test driving an electric hummer and holding a major event with United Auto Workers members to promote his protectionist tax credit.
Article content
If Trudeau fumbled the ball back then, he's recovered since, and he deserves the credit for this fix.
"Since the Prime Minister's first meeting with President Biden last year, we have been relentless in underscoring that the original proposal would be harmful to both Canada and the U.S., so we're glad to see that recognized in the new version of the bill," International Trade Minister Mary Ng said Thursday.
Flavio Volpe, president of the Automotive Parts Manufacturers Association, said Trudeau deserves a lot credit.
"The Prime Minister escalated this publicly with Joe Biden and went all in," Volpe said.
He was part of the industry side lobbying elected officials in Washington and saw the efforts put in by federal and provincial leadership from Ontario.


Read More: Team Canada worked to crack Biden's protectionism on electric cars