Chasing the conspiracy theory vote will please the Trudeau Liberals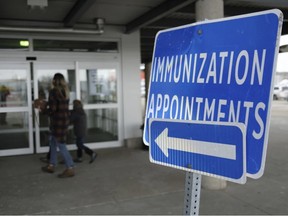 Article content
When the Trudeau Liberals chose to politicize COVID-19 vaccines and introduce federal mandates ahead of last year's election, cynically reversing a position held only a few months before, the correct response from the Conservatives would have been to de-escalate.
Article content
Defend the right not to get the shot, point out that the prime minister was opposed to mandatory vaccination until he thought it would help him win the election, and then move on. In other words, try to make vaccination uncontroversial again. Instead, the Conservatives have fallen over themselves to gain the support of those not just against mandates, but against vaccines outright.
A party more sure of itself wouldn't need to cater to this crowd and could simply present a conservative vision that defends Canadians' right to personal liberty, the right to work and invest, and the right for families to raise their children as they see fit. Such a party could also reject the phony divide between red and blue Tories and wade into issues the party has feared to engage with. Surely there are sensible and modern proposals to regulate abortion, place limits on access to doctor assisted death, and bring stiffer sentences for serious crimes.
Article content
Which is to say, there is plenty of room for a truly conservative platform that both shuns turning to the left, and energizes centre-right voters. And during the current leadership race would be precisely the time to flesh this out.
But while there has been good policy proposed during the race, such as on housing, energy, and health care, the candidates have also been weirdly preoccupied over who most deserves the conspiracy theory vote.
For example, policies on the World Health Organization and the World Economic Forum have been proposed that are directly informed by the false idea that these organizations are controlling, or trying to control, the government. The WEF's Klaus Schwab may talk like he runs the world, but that doesn't make it so. Frontrunner Pierre Poilievre has introduced a private members bill, with no chance of passing, to ban any future federal vaccine mandates, an obvious appeal to vaccine refusers. Even if such a law was passed during a future Poilievre government, it would be redundant, because he wouldn't bring in mandates anyway.
Article content
Some of the candidates have also tripped over each other to declare their support for the Freedom Convoy protest that blockaded…


Read More: Carson Jerema: Conservatives learn the wrong lesson about COVID vaccines