"The globalists can all go to hell," declared Viktor Orbán. "I have come to Texas!"
The crowd roared, whooped and gave a standing ovation as if at a campaign rally for former US president Donald Trump. It was evident they saw in Orbán a kindred spirit – a blunt weapon to wield against liberal foes.
The Hungarian prime minister was the opening speaker at this week's Conservative Political Action Conference (CPAC) in Dallas, Texas, and perhaps the most vivid demonstration yet of the mutual and rapidly growing affinity between the far right in America and Europe.
Orbán, who has been prime minister for 12 years, boasted about his hardline stance on illegal immigration, law and order and "gender ideology" in schools. He touted a rise in marriages and fall in abortions. He was unapologetic in his defence of blood-and-soil nationalism and contempt for "leftist media".
And extraordinarily for a foreign leader, he overtly sided with an opposition party – the Republicans – rather than the incumbent Democrats, paying homage to Trump at his golf club in Bedminister, New Jersey, while ignoring Joe Biden at the White House.
Calling for Christian nationalists to "unite forces", Orbán told CPAC: "Victory will never be found by taking the path of least resistance. We must take back the institutions in Washington and in Brussels. We must find friends and allies in one another. We must coordinate the movements of our troops because we face the same challenge."
He noted that US midterm elections will be later this year followed by the presidential contest and European parliamentary elections in 2024. "These two locations will define the two fronts in the battle being fought for western civilisation. Today, we hold neither of them. Yet we need both."
Rarely has the alliance between nationalist parties across the Atlantic been so bold, overt and unshackled. CPAC was once the domain of cold warrior Ronald Reagan. But in recent years guest speakers have included the Brexit cheerleader Nigel Farage and Marion Maréchal-Le Pen, niece of the far-right French politician Marine Le Pen.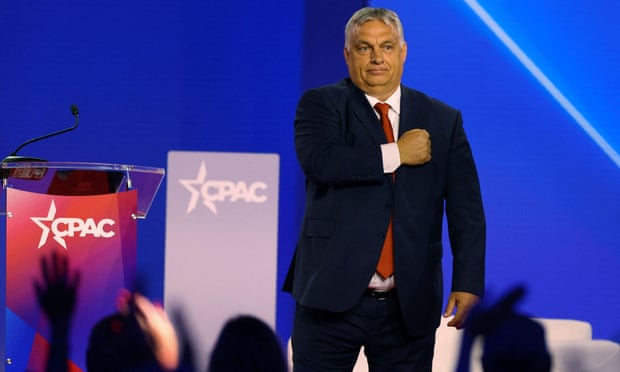 On Friday the lineup included Steve Bannon, who has worked with openly racist far-right leaders across Europe and once leased a medieval monastery outside Rome to run a "populism bootcamp".
Bannon is former executive chairman of Breitbart News, which he once described as "the platform of the 'alt-right'", a movement associated with efforts to preserve "white identity" and defend "western values". He served as chief strategist in the Trump White House and is now facing prison after being convicted of contempt of Congress for failing to comply with the January 6 committee.
CPAC Texas also heard from the Georgia congresswoman Marjorie Taylor Greene, who railed against the media and told the audience: "When I said that I'm a Christian nationalist, I have nothing to be ashamed of because that's what most Americans are." The event will close on Saturday with Trump who, like Orbán, has faced scrutiny over his relationship with Russia's Vladimir…


Read More: Viktor Orbán turns Texas conference into transatlantic far-right love-in | CPAC