LOS ANGELES – A judge Wednesday ordered rapper Tory Lanez to be placed on electronic monitoring and house arrest by Friday while he awaits trial on charges that he allegedly shot at fellow rapper Megan Thee Stallion's feet in the Hollywood Hills.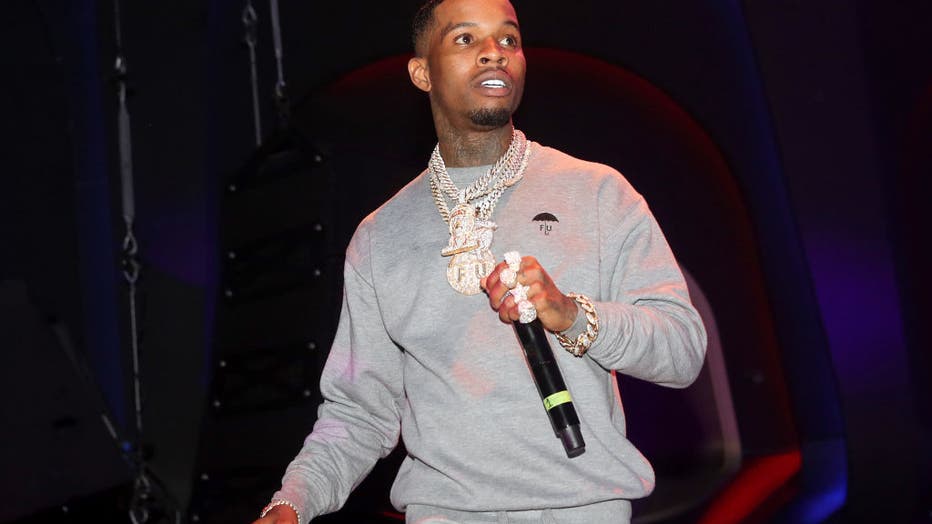 FILE-Tory Lanez. (Photo by Johnny Nunez/Getty Images) (Getty Images)
Superior Court Judge David Herriford rejected the prosecution's motion seeking to have the 30-year-old musician to be taken into custody without bail as a result of an alleged attack on a man in Chicago last month.
The judge noted that prosecutors had argued in their motion that the defendant  — whose real name is Daystar Peterson — poses a danger to society and has a pattern of defying court orders, while noting that the defense's response counters that there was insufficient evidence that a battery had even occurred.
Deputy District Attorney Alexander Bott urged the judge to order the rapper into custody without bail while awaiting trial on one count each of assault with a semiautomatic firearm and carrying a loaded, unregistered firearm in a vehicle, along with allegations that he personally used a firearm and inflicted great bodily injury. His trial is tentatively set to begin Nov. 28.
RELATED:
The prosecutor said Lanez has "shown such a flagrant disregard for the court's orders," telling the judge that the defendant had previously violated court orders not to come within 100 yards of Megan Thee Stallion and posting messages on social media that appeared to be directed at her. Bott told the judge that the defendant allegedly punched a man "without warning" and knocked him to the ground Sept. 17 in Chicago.
The rapper's attorney, Shawn Holley, countered that the incident in Chicago involves "mere allegations," adding that "these allegations are disputed." She noted that no case has been filed there.
"I'm not really sure that there's anything this court should do given the unproven allegations," the defense lawyer told the judge.
The judge ordered the rapper to be placed on electronic monitoring and house arrest between Friday and the next court date.
On April 5, Lanez spent about five hours in custody after the judge increased Lanez's bail from $250,000 to $350,000 after agreeing with Deputy District Attorney Kathy Ta's contention that some of his social media posts appeared to be messages directed at Megan Thee Stallion. The judge ordered then that Lanez no longer make any public mention of his fellow rapper.
During a preliminary hearing last year, Los Angeles Police Department Detective Ryan Stogner testified that he spoke with Megan Thee Stallion and that she told him that she heard Lanez say, "Dance, bitch," before he fired at her at about 4:30 a.m. July 12, 2020, as the bikini-clad woman got out of a Cadillac SUV for the second time that morning following an argument.
"No one heard, `Dance, bitch,' except for Megan?" defense attorney…


Read More: Rapper Tory Lanez ordered to house arrest, electronic monitoring by LA judge