Meghan Markle said she shared "quiet whispers of girl talk on the terrace" with Sophie Grégoire Trudeau and got "giddy like absolute schoolgirls."
The Duchess of Sussex described a day by the pool with Trudeau, wife of Canadian Prime Minister Justin Trudeau, in the latest episode of her Archetypes Spotify podcast.
Meghan also interviewed the former TV host for the show, titled: "Good Wife/Bad Wife, Good Mom/Bad Mom."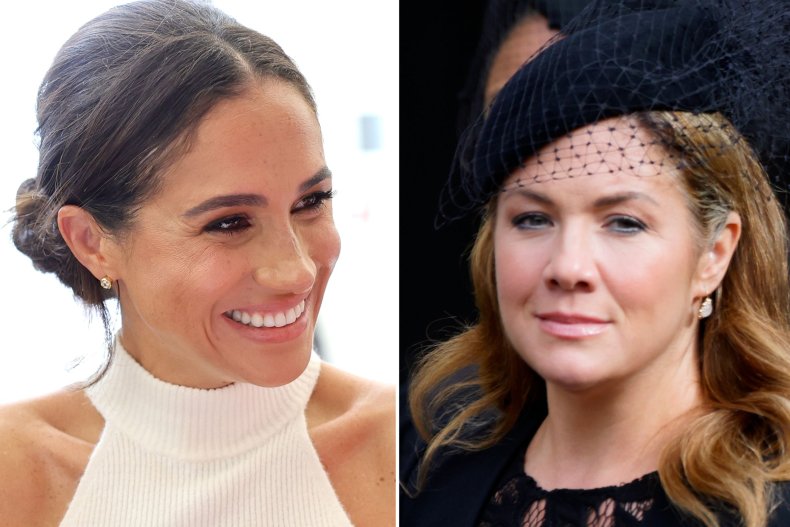 Meghan said: "This wasn't our day of being the wives and moms, all perfectly quaffed with updos and pearls and demure smiles.
"This was the other version of us both with wild curly hair and swimsuits and loose linen and huge belly laughs. Big cuddles with our little ones, quiet whispers of girl talk on the terrace, giddy like absolute schoolgirls. We were just having so much fun."
She continued: "Now, this to me was very exciting because I hadn't seen her for a while, and the idea of getting our kids together, this was a real treat. We swam, drink wine, we splashed in the water, then threw some pool floats in. By the way, the inflatable pizza slice proved to be a big hit, which I found online.
"And I kid you not the one without pepperoni was a few dollars less than the one with pepperoni and yes, I'm still talking about the inflatable pizza float for the pool. We all got a good laugh out of that."
Meghan also shed some extra light on her friendship with Trudeau, who sent her encouraging voice notes while she was pregnant.
Her first pregnancy was a difficult time for the duchess as has previously described how there was a wave of negative publicity about her at the time.
The duchess said: "So she's not just a wife or a first lady. She's the type of person who cares really deeply about her friends.
"She used to send me these little meditations during my pregnancy and voice notes. Just these moments of encouragement and I've gone to her over the years for advice.
"She knows what it feels like to be a mom and a partner and specifically a mom and a partner in the public eye.
"And also how crushing the guilt of expectations can become."
Meghan announced her first pregnancy during a tour of Australia and the South Pacific in fall 2018 and a month later a famous news story was published, initially in The Daily Telegraph, accusing her of making Kate Middleton cry.
It was one of a series of critical articles that appeared to leak out of the palace at a time when the duchess had been accused of bullying two PAs in an email sent that October.
By January 2019, Meghan told Prince Harry she was experiencing suicidal thoughts.
Meghan said of Trudeau: "She's an activist, humanitarian, mother and also wife to Canadian Prime Minister Justin Trudeau.
"Sophie has become a dear friend and someone who I think is so emblematic of strength that comes from embracing your humanity, even in the face of all…


Read More: Meghan Markle Had 'Quiet Whispers' With Sophie Trudeau Like 'Schoolgirls'