According to his recently released memoir, one thing that Matthew Perry thinks that people might be surprised to learn about him is that he has mostly been sober since 2001. "Save for about 60 or 70 mishaps."
Friends, Lovers and the Big Terrible Thing is an unflinching and often harrowing must-read for 90s pop-culture fans, in which the Friends actor and recovering addict estimates that he has been to twice-weekly therapy for 30 years, checked into rehab 15 times, and attended more than 6,000 Alcoholics Anonymous meetings.
"In the dictionary under the word 'addict', there should be a picture of me looking around, very confused," Perry writes. Here is his story, abridged.
The one where Justin Trudeau gets his head kicked in
When Perry is nine months old, his father abandons his young family to go to California and chase his dreams of becoming an actor. As Perry puts it: "What the fuck is an actor? And where the fuck is my dad?"
His mother starts working as a press aide to the Canadian prime minister, Pierre Trudeau (Justin's dad), remarries and moves briefly to Toronto, when 10-year-old Perry starts acting up, smoking, getting bad grades and even beating up young Justin Trudeau ("I decided to end my argument with him when he was put in charge of an entire army").
Could he be any better at tennis?
As a teenager, Perry discovers that he has three talents: acting, tennis (he is nationally ranked in Canada by age 14) and drinking.
He and two friends have developed their own distinct cadence, like "Could we be more in detention?" ("Chandler Bing changed the way that America spoke …" Perry suggests. "Only I got rich off it, though.")
On another fateful night, Perry has his first drink: a bottle of Andrès Baby Duck, described today as a "sweet, purple, sparkling wine".
As his friends throw up around him, Perry finds himself at peace for the first time. "I was lying back in the grass and the mud, looking at the moon, surrounded by fresh puke, and … nothing bothered me."
Goodbye tennis, hello acting
Age 15, already a "broken human being", Perry moves to Hollywood, hoping to reconnect with his father. This causes a great rift with his mother, and when the California heat proves too great a shock for a Canadian tennis prodigy, Perry switches his career goal to acting. Even at his lowest, he has always thrilled to be the class clown, the lead in the school play: "Why wouldn't I want to pretend to be another person?"
Perry likewise follows his father further into alcoholism, drinking six vodka tonics every night and declaring them the "best part of his day". The difference is, Perry Sr is high-functioning (and eventually gets sober by taking a long walk, his son notes resentfully).
Keanu Reeves is no River Phoenix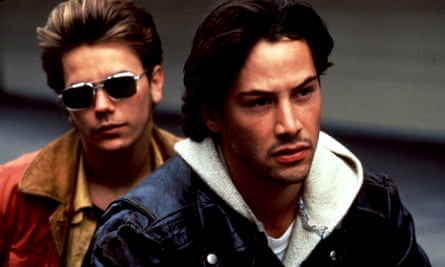 At 15, Perry has no trouble performing for a crowd. California women love his Canadian accent and the quick patter, sarcastic humour and double-takes for which he will eventually become famous.
One day a man spots him in a diner, "charming a bunch of young…


Read More: Drugs, impotence and punching Justin Trudeau: things we learned from Matthew