The former head of the diplomatic service has said Boris Johnson was the worst prime minister he worked under.
Sir Simon McDonald served under seven prime ministers, from Margaret Thatcher to Mr Johnson, as a diplomat and, from 2015 to 2021, as permanent under-secretary to the Foreign Office and head of the diplomatic service.
A civil servant for nearly four decades, Sir Simon has had a unique insight into the workings of government and after resigning last year is now a cross-bench peer in the House of Lords.
He spoke to the Beth Rigby Interviews… programme about the PMs he worked with and the importance of staying neutral as a civil servant.
Sir Simon, whose book Leadership: Lessons from a Life in Diplomacy is published next week, worked closely with Mrs Thatcher, John Major, Tony Blair, Gordon Brown, David Cameron, Theresa May and Mr Johnson.
"Thatcher was the best and Johnson was the worst," he said.
And if he had to include Liz Truss, then "she was a worse prime minister than Boris Johnson" while Rishi Sunak is "methodical and promising".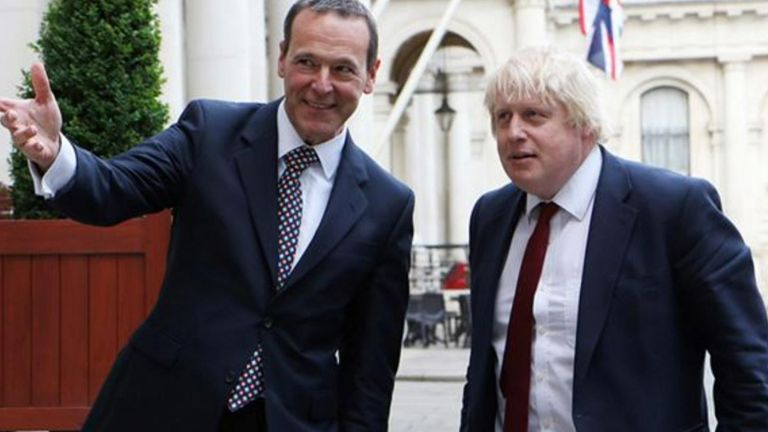 Johnson was 'charismatic but chaotic'
Sir Simon, who is now the master of Christ's College, Cambridge, said Mr Johnson, on a personal level, was "always charming to deal with, he was humorous, he was kind, he was the foreign secretary I worked with who had the most time for the people in his office".
"And this is a real mark of a character. But what you need to be an effective prime minister is different. Being prime minister is one of the toughest jobs in the world," he said.
"He is charismatic but chaotic.
"He liked to have multiple opinions swirling around him, the people proposing those ideas never really knew whose was in the lead – sometimes the decision wasn't clear and sometimes the decision was reversed.
"There was too much swirl, and in the end, the system responds to clearer directions.
"One of the most disconcerting things was to see him arrive at a meeting, pretending to be less well briefed than he actually was. But that was part of his character."
Click to subscribe to Beth Rigby Interviews… wherever you get your podcasts
The downfall of Boris Johnson
In July this year, Sir Simon took the unusual decision, for a former civil servant, to tweet out a letter to the standards commissioner saying Number 10 "are still not telling the truth" about Mr Johnson not knowing about previous sexual assault allegations against Conservative MP Chris Pincher.
Asked if Mr Johnson was told about the allegations against Mr Pincher, the subsequent investigation and the outcome, Sir Simon said he was informed when he was foreign secretary and again when he was prime minister.
Sir Simon's tweet put Mr Johnson's premiership in peril, with the row over Mr Pincher leading to the former PM's exit from office.
He said he did not think his letter would have such an impact and admitted the backlash from the government was "unpleasant" but not as bad as what the victims of Mr Pincher had experienced.
"I spoke for a couple of reasons. First of all, I'd left the…


Read More: Ex-top civil servant Sir Simon McDonald says Boris Johnson was worst PM he