Poland installs barbed wire along border with Kaliningrad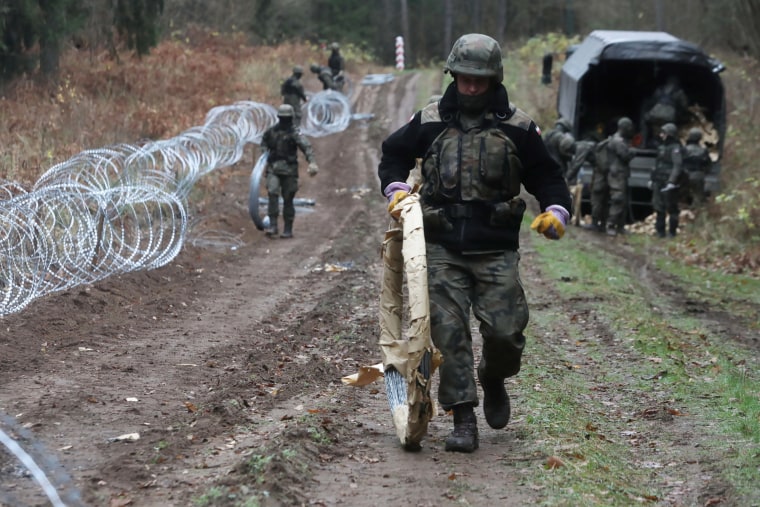 U.S. will work closely with Poland to 'gather more information' on blast, Austin says
Defense Secretary Lloyd Austin said the U.S. will work closely with Poland and others to "gather more information" on what exactly happened in the blast in Przewodów.
The explosion occurred as Russia faced "setback after setback on the battlefield," Austin said.
"The Kremlin might hope that more bombardment will break the resolve of the Ukrainian people. But ordinary Ukrainian citizens have responded with the magnificent defiance that the world now knows so well," he said.
Austin also said that newly arrived NASAMS air defense systems have had a 100% accuracy rate in intercepting Russian missiles.
Ukrainian Defense Minister Oleksii Reznikov said in a tweet this month that the country had received its first NASAMS (National Advanced Surface-to-Air Missile System) and Aspide air defense systems.
Russian espionage capabilities hampered after 400 spies expelled from Europe, MI5 chief says
While the U.K. faces major security threats from Russia, China and Iran, the Kremlin's intelligence efforts have been hampered since the beginning of the war in Ukraine, Britain's domestic intelligence spy chief said Wednesday.
Ken McCallum, director-general of MI5, said Russia's espionage capabilities have suffered a "significant strategic blow" since Moscow launched its invasion of Ukraine after the expulsion of at least 400 spies working under diplomatic cover at Russian missions across Europe. At least 23 of those spies were in the U.K., he said.
Still, he said British spies had to contend with a "Russian covert toolkit" including assassination attempts "cyberattacks, disinformation, espionage" and interfering with democracy.
In a speech outlining the major threats to the U.K., McCallum said there was also a risk Russia, China and Iran could help one another, "amplifying their strengths."
'I saw this monstrous black cloud': Eyewitness on Poland blast
Ukraine calls for 'joint study' to investigate Poland blast, official says
Ukraine called for a "joint study" of the blast in Poland that killed two people on Tuesday, Oleksiy Danilov, secretary of Ukraine's National Security and Defence Council, said.
"We are ready to hand over the evidence of the Russian trail that we have," Danilov said in a tweet on Wednesday. "We are expecting information from our partners, on the basis of which a conclusion was made that it is a Ukrainian air defense missile."
Danilov said Ukraine was requesting "immediate access to the site of the explosion" to investigate the incident.
Kremlin praises 'restrained' U.S. in contrast to 'hysterical' response from others
The Kremlin decried what it said was a "rabid Russophobic reaction" to the deadly blast in Poland but hailed what it described as the "much more professional" response from Washington.


Read More: Poland, NATO say Ukrainian air defense not Russian attack likely caused deadly