CNN
 — 

A helicopter crash near a kindergarten in the Kyiv region has killed at least 16 people, including the leadership team of Ukraine's interior ministry who were traveling on the aircraft and three children on the ground, according to officials.
At least 30 others, including 12 children, are in the hospital following the incident in the city of Brovary on Wednesday, according to Kyrylo Tymoshenko, head of the Ukrainian Presidential Administration.
Tymoshenko has revised down the number of people killed in the crash on the outskirts of Ukraine's capital – the previous death toll was 18.
Interior Minister Denis Monastyrsky, First Deputy Minister Yevheniy Yenin and State Secretary Yuriy Lubkovychis died, Anton Geraschenko, a ministry adviser, confirmed on social media.
All nine people onboard the helicopter (six ministry officials and three crew members) were killed, leaving another seven dead on the ground, including three children, Tymoshenko said. A search and rescue operation is continuing, he added.
A CNN team on the ground in the Kyiv region noted gray skies and very low visibility.
The helicopter that has crashed was a Eurocopter EC225 "Super Puma," a CNN producer confirmed after seeing remnants of flight manuals among the debris.
It landed near a kindergarten and a residential building, Oleksiy Kuleba, head of the Kyiv Regional Military Administration, said earlier.
"At the time of the tragedy, there were children and the staff in the kindergarten. At the moment, everyone was evacuated," he wrote on Telegram.
Paramedics, the police and firefighters are responding at the scene, Kuleba added.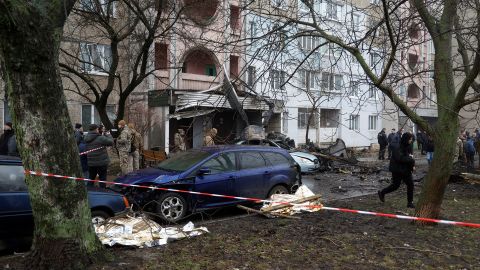 In a written statement, Ukrainian President Volodymyr Zelensky called the crash "a terrible tragedy," adding that he has ordered the Ukrainian Security Services to "to find out all the circumstances."
Zelensky ended his statement by saying the interior ministry officials were "true patriots of Ukraine. May they rest in peace! May all those whose lives were taken this black morning rest in peace!"
The officials are thought to be the most senior government figures to have died since Russia invaded Ukraine last February.
Monastyrsky, 42, was a lawyer by training. According to a biography published on the ministry's website, he spent some years teaching law and management at a university in his home town of Khmelnytskyi, before deciding to turn "from theory to practice" and become involved in politics.
He worked on reforming Ukrainian law enforcement following the 2014 Euromaidan revolution, rose through the ranks and was appointed interior minister in July 2021.
Last year, Monastyrsky accompanied a CNN crew on a visit to abandoned Russian military positions in Chernobyl.
…


Read More: Brovary, Ukraine: Helicopter crash kills 16, including Ukrainian interior